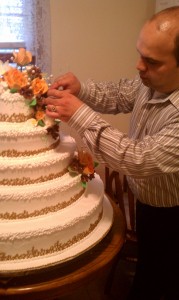 Hello Everyone!
My name is Rafael Ramirez. I am a cake designer from the Dominican Republic. I was introduced to the world of baking by my Grandmother, Ana Luisa de los Santos (or Encarnación, as we all knew her) when I was still a child. Encarnación was well known in our town for her local pastries, sweets and baked products.  I grew up helping her in the kitchen, learning her recipes, her skills, and her secret ingredients.     Over the years I have had the opportunity to explore different decorating and baking techniques and I have developed my own cake designing style.  I also had the pleasure of working very closely with one of the most reputable cake decorators in the Dominican Republic, Rita Fermin, who has been a teacher, a mentor and the perfect supplement to my continued development as a baker and cake designer.   Rita Fermin is a valuable friend and a wonderful instructor.  Every now and then I spend a few weeks in the DR baking and designing with Rita, so catch me there next time.
Rafael Cakes & Sugar came about after over 20 years of baking for fun and sharing my creations with friends and family.  My designing style takes an elegant twist and is classic and refined, which sets my cakes apart from every-day bakery products.  I am a strong believer in quality over quantity and for that reason I am always in search of the most fresh and best quality ingredients, I only use products that would meet my personal requirements. The best cakes do not come from low quality products.
Because of the elaborate work and extreme detail that I like to incorporate in my work, I dedicate a lot of time to each one of my creations.  No two cakes are alike, each piece is its own and represents my clients in a unique way.   I like to get to know my clients a little so that I can understand their needs better, that way we are both satisfied when the final product is delivered.
Thank you for visiting my web site and I hope to have the opportunity of designing your next cake soon.
Rafael