We know you now have a million things in your mind as you prepare for that special day.   Deciding on all the details of your celebration can be stressful and time-consuming and we want to help you reduce that stress by making your cake selection process simple and pleasant. You may already have a theme for your celebration or an ideal cake in mind, or you could still be unsure of the details. Either way it is OK. We are happy to learn about all the specifics of your day; we want to know what you like and dislike and we will design a wedding cake that will keep you smiling on your special day.
These are some of our custom designs for your inspiration.    We proudly offer high quality products baked with traditional techniques in our kitchen. All of our specialty wedding cakes are baked to order only. The designs of our cakes are personalized to your requests and taste. We bake in a traditional, old-fashioned way. No preservatives or stabilizers.
Dessert tables, cupcakes, and mini-cakes also available.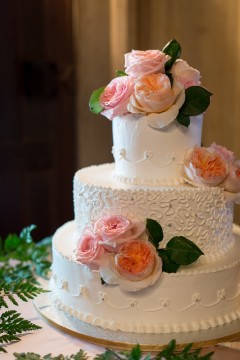 Cake Flavors:
Butter Cake: French Vanilla or Almond
Sour Cream Cake: French Vanilla or Almond
Chocolate Cake: Khalúa or Mocha
Red Velvet Cake with a hint of beet juice
Carrot Cake:

Traditional or Tropical

Italian Cream Cake 
White Wedding Cake (Lady      Baltimore)

Dominican Style Cake
Fruit Reductions (Seasonal)

Tropical Flavors: Pineapple – Passion Fruit – Guava – Lemon Curd – Raspberry – Strawberry

Buttercream: Vanilla – Chocolate – Mocha – Nutella – Cream Cheese
Cake Coverings: 
Rolled Fondant

Italian Meringue

Swiss Meringue

Buttercream